Kettle Lakes /Timmins
Introduction:
Kettle Lakes Provincial Park is made up of 1,261 hectares of northern pine forest dotted with 22 small, sparkling lakes. It gives visitors the sense of being far from civilization. Yet it lies completely within the boundaries of Timmins, the largest municipality in Canada.
The park gets its name from the many distinctive lakes, present-day evidence of the last Ice Age. Kettles are depressions in the sandy soil, created when huge isolated blocks of the glacial ice melted. These lakes have no inlets or outlets, yet the water is clean and crystal clear; they usually have steep, sandy banks and some are as deep as 30 metres. All but two of the lakes in the park are kettle lakes.
The great boulders found in the park are also relics of the glacial past, carried there by the moving ice and left behind in the meltoff.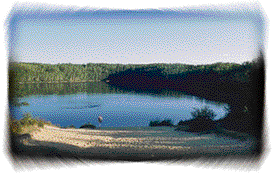 Scouters and Guiders:
The Rendezvous 2001 Organizing Committee would like to invite you to Kettle Lakes Provincial Park for Gold Rush Rendezvous 2001 and CJ'01 Pre-Jamboree. This will be a fantastic weekend for boys and girls (age 11 - 14) and their leaders.


Rendezvous Theme:
This year's theme is Gold Rush Rendezvous 2001. Groups are encouraged to bring a banner and costumes based on this theme and decorate their camp site accordingly. Judging will be based on originality and imagination of a group's site, banner and costumes. Be creative and take the challenge with enthusiasm. Start planning now!!


Registration:
Registrations are now being accepted at a cost of $20 per participant (youth or adult). Complete the registration form as soon as possible to allow the planning committee adequate time to plan for activities and supplies. Your pre-registration must be received by April 15, 2001 to be guaranteed a camp site. Please pay in Canadian Currency. Late registrations may result in late fees.

Location:
Rendezvous will be held at Kettle Lakes Provincial Park, located in the center of the triangle with Iroquois Falls to the north, Matheson to the east, and Timmins to the west. Watch for signs as you approach the area. The Park has a small store on site.

Click on the flag for a print map.
Program:
Your youth will enjoy the challenging program that has been planned. The number of activities will vary depending on the Offers of Service received. If you have anyone interested in assisting as Offer of Service, please notify the registration committee as soon as possible and send in the Offer of Service Form that is included in this package. Old clothes are recommended for Saturday's events as some will be messy or physically challenging. Please make sure your youth are aware of your organization's guidelines for clothing as this will be enforced.

Emergency Contact:
The emergency contact number at Kettle Lakes Provincial Park is (705) 363-3511. This number should only be used in case of an emergency as it is the Park's phone and is located at the entrance to the park.